---
Posted by katie lisetskiy on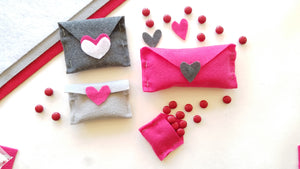 Fun little craft to do with your little ones with supplies that you probably already have at home.  Supplies: 1. Felt Material OR construction paper 2. Scissors 3. Stapler 4. Glue OR Glue gun 5. Candies   Instructions: 1. Cut the Felt material in a TALL house shape (the width that you would like the envelope to be). 2. Fold the house shape almost in half, leaving a small piece for the flap. 3. Staple both sides of the envelope. (If using felt material, it might scrunch up, so just pull the sides apart and it will be straight). 4....
---
Posted by katie lisetskiy on
A fun and easy snack to create with your little one. Making these cute animal faces requires just a few ingredients and you can get very creative with whatever you have. Letting your little one make their snack fun will definitely make them want to eat it .   Ingredients: 1. Toast bread 2. Spread (Nutella, Peanut Butter or Cream cheese) 3. Cut Fruits (Strawberries, Blueberries, Bananas, etc)   Directions: Spread the toast with either peanut butter, nutella or cream cheese and use the cut up fruit to make creative animal faces. You can also imitate the four different faces that we...
---
Posted by katie lisetskiy on
The joy children experience when they are involved in the kitchen using real utensils and putting ingredients together! Although it can get a little messy, it is so fun creating memories together.  Here is a recipe of a simple and yummy pancake mix we used to make our pancakes. This batch makes approximately 8-9 pieces of 6" pancakes.  Ingredients: 2 Cups all-purpose flour 2 Teaspoons baking powder 1/4 Teaspoon salt 2 Tablespoons sugar 2 Eggs 2 cups milk 2 Tablespoons melted butter Directions: 1. Combine all ingredients together and mix well. 2. Cut up ALL fruits (strawberries and bananas). Cut the...